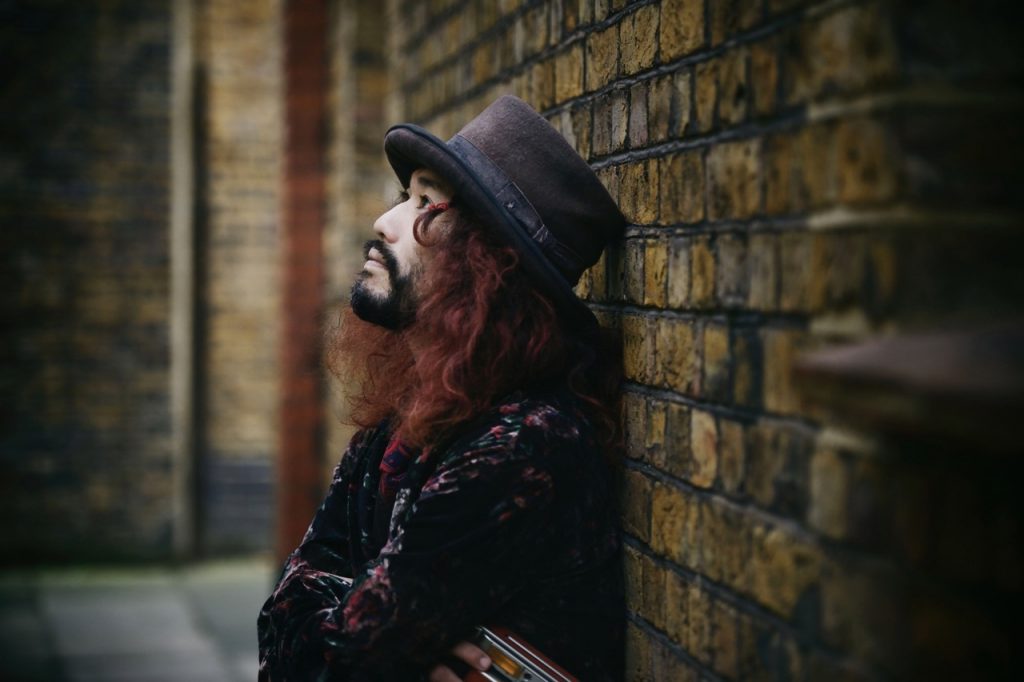 Artist / Bard / Director / Fotograf
Born in 1982, based in Düsseldorf and Tokyo.
Having come across Swift's "Gulliver's Travels" at the age of 17, I devoted myself to literature and developed a longing for Europe. From there, I learned myths, religions, literature, philosophy, history, and paintings, and finally realised studying in Germany when I was 20 years old. During the stay, I set a goal to see 100 cities in Germany and traveled all over the country, from major cities to small villages. After returning to Japan and graduating from the university, I once worked for a business company but soon realised it was certainly impossible to give up my dream of expressing a sense of romance rising up in myself like  magma.  So I decided to head in the direction of creative activities. Through writing words (novels) and spitting out words (plays), I started to devote myself deep into photographs that were intuitively completed without the need for even one word.  Gradually it became the centre of my life. Moved to Germany exactly ten years after I had set foot in the country for the first time, as married to a German woman whom I had met back then. After eight years of the marriage, the path was split, unfortunately.  But I'm currently based in Düsseldorf, Germany, second base in Tokyo, Japan and travel back and forth between here and Japan… and every corner of the world. Having accumulated  numerous experiences and thoughts, I am now challenging fundamental themes which close in on the world and the inner nature of human beings such as "what is a 'city'?", "who are you?" etc. Therefore I continue my endless journey to find answers while capturing an enormous amount of words and information contained in the world seen through the viewfinder and taking pictures of the process and the story leading up to the very moment when I actually release the shutter.
–
17歳の時にスウィフト作『ガリヴァー旅行記』に触れてから文学に没頭。欧州に強烈な憧れを抱くようになる。そこから神話、宗教、文学、哲学、歴史、絵画を貪るように学び、20歳の時についにドイツへの留学を実現。滞在中に100都市は見なければと目標を打ち立て、ドイツの主要都市から小さな村々までを訪ねる。帰国して大学を卒業後、一度は会社員になるも、自身の中にマグマのようにたぎるロマンを何かの形で表現したいという夢を捨てきれず、創作活動の道へ。言葉を書く執筆活動や言葉を吐き出す演劇を経て、言葉を必要とせずに直感的に完成する写真に傾倒し、生活の中心になっていく。その後、留学中に知り合ったドイツ人女性と再会し結婚、30歳の時にドイツへ移住。8年の結婚生活の後に道を分かつことになったが、現在はドイツ・デュッセルドルフを拠点に、日本は東京・高円寺にセカンドベースを構え世界を巡る。様々な経験や想いを折り重ねた現在、「都市とは何か」「あなたは誰ですか」等、世界や人間の本質に迫る根源的なテーマに挑むべく、ファインダー越しに見る世界に内包される膨大な言葉や情報を汲み取り、シャッターを押す瞬間に至るまでの過程と物語を写真に収めながら、答えを探す旅を続けている。
–
Language
Japanese, German and English
–
2002           Martin Luther Universität Halle-Wittenberg
2005           Reitaku University, Linguistics Department, German Major
APL 2008   Freelance Photographer
FEB 2013   Moved to Hamburg, Germany
MAR 2022 Moved to Düsseldorf, Germany
–
AWARDS
2021      Creative Photo Awards 2020 
              "Alone in the Sky-High" Professional / Abstract – Commended
2020      Budapest International Foto Awards 2020
              "Dear My Beloved" Professional / Architecture – Silver
              "Dancing Nymph in Hades" Professional / Fine Art – Honorable Mention
              Creative Photo Awards 2020 
              "Artificial Mountains" Professional / Architecture – Commended
              15th BLACK & WHITE SPIDER AWARDS
               "GOTHAM" Professional / Aerial – Honorable Mention
               "A Wanderer, ever after" Professional / Silhouette – Honorable Mention
               "Laughing Dragon" Professional / Architecture – Honorable Mention
               "Water Flame" Professional / Abstract – Nominated
               "Hide & Seek" Professional / Silhouette – Nominated
               "(not) alone" Professional / Silhouette – Nominated
             13th INTERNATIONAL COLOR AWARDS
               "Succubus in the black water" Professional / Nude Nominated
               "Eternalscape : Elbe I" Professional / Abstract Nominated
2019      14th BLACK & WHITE SPIDER AWARDS
               "Alien in the dark forest" Professional / Nature – Honorable Mention
               "FURIOUS" Professional / Abstract – Nominated
2018      13th BLACK & WHITE SPIDER AWARDS
               "Shinjuku – Artificial Mountains" Architectural – Nominated
2017      Prix de la Photographie, Paris (PX3) PHOTOGRAPHY COMPETITION
               "Shout and Liberation" – Professional / Fine Art / Nudes – Honorable Mention
               "TRUMP UP" – Professional / Abstract– Honorable Mention
2011      86th KOKUTEN – Masters Of Modern Japanese Art
               "哀 – Sorrow" Photography – Nominated and Exhibited at The National Art Center Tokyo
–
EXHIBITIONS
SOLO EXHIBITIONS
SEP 2019     "歴程 – Der Progress nach Jenseits – (not) alone Gallery West, Tokyo / Japan
JUL 2019     TV Series "Sujibori – Photo Exhibition" Shinjuku Ophthalmologist(GANKA) Gallery, Tokyo / Japan
MAY 2019   "歴程 – Der Progress nach Jenseits 断片 – 11111110110101111110111_02"  Nippon Connection, Frankfurt / Germany
MAR 2019   "The Crawling Ourselves" Harajuku Design Festa Gallery, Tokyo / Japan
MAR 2019   "歴程 – Der Progress nach Jenseits 断片 – 11111110110101111110111_01" MI Gallery, Osaka / Japan
OCT 2018    "Exhibition Tour: Scenery from the other side (Osaka & Hamburg, sister cities 30th pre anniversary event)" Osaka City Hall, Osaka City Central Public Hall and Yasui Architects & Engineers, Inc., Osaka / Japan
JUN 2017     "ABSTRACT/REFLECT/TRANSPARENT" Frankfurt / Germany
OCT 2016     "REEPERBAHN Beginn der unendliche Nacht" Gallery Public, Osaka / Japan
OCT 2016     "BERLIN – ein Lügner gegen den Zeitgeist" Gallery KatzAshiya, Hyogo / Japan
OCT 2014     "Silence Within Bustle" Osaka City Hall, Osaka / Japan
SEP 2014      "Osaka & Hamburg, sister cities 25th anniversary: Silence Within Bustle" Enokojima Art,
                       Culture and Creative Center, Osaka / Japan
GROUP EXHIBITIONS
AUG 2015    "Art Event Shimane 2015" Special Exhibition -Town-, Shimane / Japan
NOV 2014    "46. Hamburger Fototage" Hamburg Haus, Hamburg / Germany
SEP 2014     "Tokyo & Berlin, Sister Cities 20th Anniversary Exhibition" Rotes Rathaus, Berlin / Germany
–
JUMPEI TAINAKA / タイナカジュンペイ